Product Description
40 METER BAND
DIPOLE/INVERTED V WIRE ANTENNA

WITH 100' SUPPORT ROPE
This antenna will provide reliable communications in a permanent or portable installation.

Completely portable. Will easily fit in a 'bug-out bag'.

Can be installed or taken down in minutes.

The center connector is a one piece molded body and is designed for high stress (up to 18,000 PSI tensile strength).

Note: This is not PVC pipe fittings with eye hooks that will pull apart or leak when stressed or exposed to harsh weather.

The center connector will not crack or become brittle when exposed to sunlight.

The antenna wire is soldered to the center connector and covered with 'heat shrink tubing'. No internal or external nuts to come loose or corrode.

Designed for the full legal power!

Antenna wire is 14 gage, insulated, stranded, copper wire. Regardless of what you may hear, insulated wire has little or no effect on the received or transmitted signals when used at HF (high frequency).

Solid, copper coated steel wire is very difficult to work with and will kink and break at the kinks. Stranded copper wire is very easy to work with and has no 'reel memory'.

Copper coated steel wire will fail when the copper coating is damaged and the steel is exposed to the elements.

Bare copper or steel wire cannot be used when ran through trees or other foliage. This will detune the antenna and cause high SWR when transmitting and a loss of signal when receiving..

This antenna will be shipped, completely assembled with dipole dimensions as shown. The antenna is tuned for the low end of the band (longest wire section). If installed as an inverted V, It may need to be shortened by about 5%. The exact length will depend on the desired resonant frequency, height above ground, and proximity to other objects such as trees, buildings, etc. A table will be included that shows recommended lengths for resonant frequencies.

Because of the harmonic relationship between 40 and 15 meters, a 40 meter dipole or inverted V can also be used on 15 meters when the length is properly adjusted.

The ends of the antenna (attached to the center connector) are soldered and weather proofed with heat shrink tubing. The ends (attached to the insulators) are just twisted together (Not soldered) allowing for easy adjustment.

If you adjust the length, just untwist and pull more wire through the insulator and wrap it back on itself. There is no need to cut the wire. Be sure to adjust both sides equally. A table will be included with recommended lengths for inverted V and dipole configurations.

Comes fully assembled. Installation instructions included.
Antenna Center Connector

Designed for durability and light weight, this connector provides a coax SO-239 socket for accepting PL-259 feed line connector. The one piece molded body offers weather tight construction and provides a drip shield to protect the coax fittings. Full legal power capacity.

Material

ABS 20% Glass Fiber Filled

Tensile Strength

18,000 psi

Compressive Strength

30,000 psi

Flexural Strength

34,000 psi

Dielectric Strength

500-600V

Effect of Sunlight

None

Effect of Weather

None

Service Life

Indefinite

Color

Green (Olive Drab)

Antenna Wire

Material

Stranded Copper Wire

Size

14 AWG

Insulation

Oil and Gas Resistant

Color

Black

Antenna Insulators

Material

Glazed Ceramic

100 FEET OF SUPPORT ROPE INCLUDED

Our Polyester rope features excellent UV and abrasion resistance and low stretch. It's strong, has a soft feel and is very easy to work with.

Material

Polyester

Size

3/16"

Color

Black

Length

100 Feet

Break Strength

800 Lbs

UV Resistant

Yes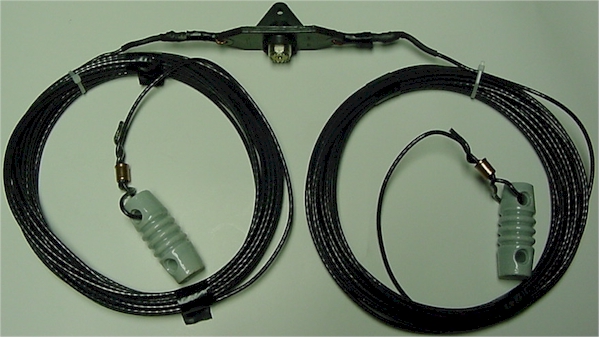 100 FEET OF SUPPORT ROPE INCLUDED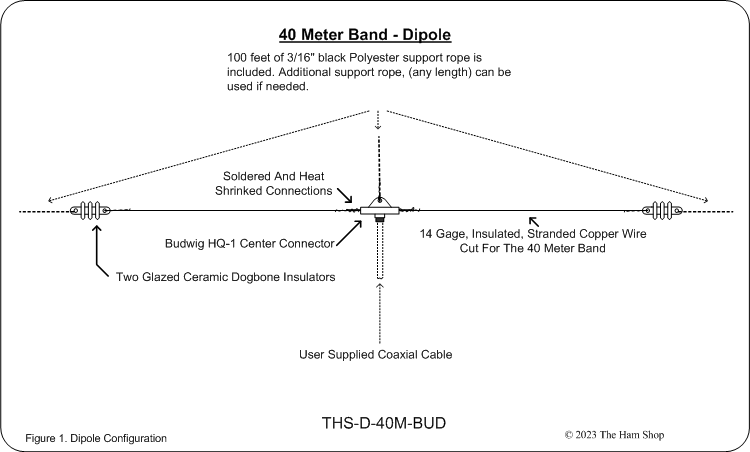 Product Videos
Custom Field
Product Reviews